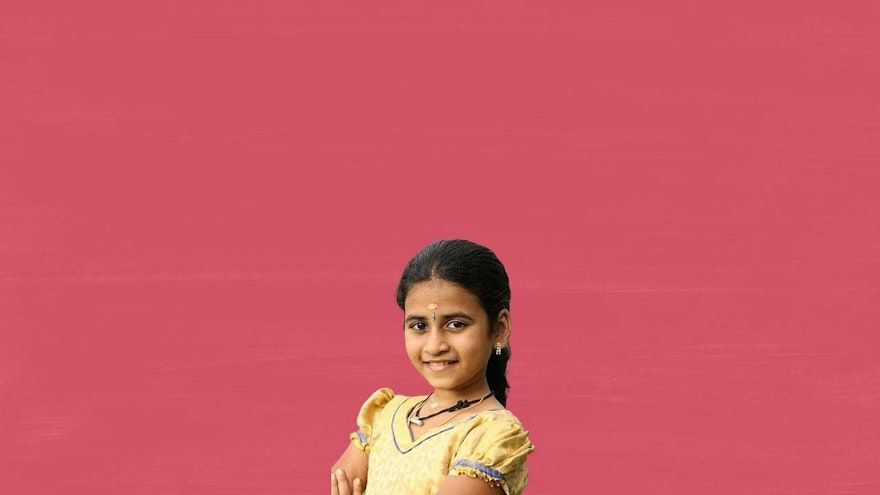 About Sooryagayathri
Sooryagayathri is a singer from Kerala, India, known best for singing the Hanuman Chalisa to Kuldeep M Pai's music.
Ms. Sooryagayathri is a ten-year-old prodigal girl who hails from Vadakara in North Kerala.
About Sooryagayathri's Parents
Her father is P.V. Anilkumar a Mridangam player father and her mother Smt. P.K. Divya a poetess.
Coming from a naturally artistic and musically inclined family Sooryagayathri possesses a burning desire to learn.
And her passion is to be seen as all her bhajan, mantra, and shloka bhavam (expression) filled renditions that are being loved and adored by music lovers from across the globe.
Sooryagayathri vs M.S. Subbulakshmi
Her voice is often compared to the legend M.S. Subbulakshmi for her soulful voice has the fine mettle that comfortably traverses through all three octaves.
She dreams of filling in M.S.Subbulaksmi's footsteps through this spiritual journey that she's embarked on, and well guided by her present mentor and Guru Kuldeep M Pai.
Sooryagayathri and Kuldeep M Pai
Kuldeep M Pai
is a multi-instrumentalist, and an Indian Composer, Carnatic Vocalist, and Music Producer. He is the sole reason why we enjoy the serene singing of Sooryagayathri.
He also has been curating some graceful artists like – Rahul Vellal, Baby Niranjana, Shivasoorya Mrinalini, Sindhuja, Bhavya, and many more.
As he says "The talented ones, with pure grace, will get the right opportunity at the right time wherever it is." And indeed all his discoveries are the grace of God.
Listen to the most famous Sooryagayathri song
If you're on the lookout for mantras like Hanuman Chalisa, that obliterate fear and fill the listener with courage, you can try the
Vishnu Shantakaram mantra
.
While the
Healing Chants of Shiva
have many selections that tackle negative emotions like confusion, stress, anxiety, and jealousy.
Meditating to
these mantras
might be the improvement in your life you're looking for.